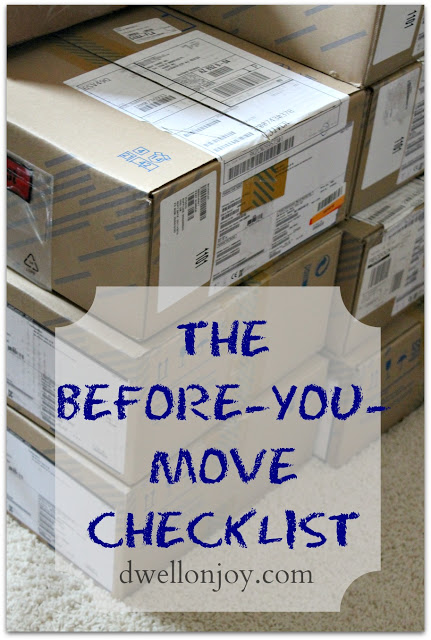 Change your address with the USPS. This is usually my first step when moving. Once your offer is finalized or lease is signed, it's time to make it official and get your mail moving in the right direction. It's important to note that changing your address with the United States Postal Service does not notify all of your important important contacts that you have a new address (unfortunately, that's your job), but instead it forwards your mail for up to a year in the event that perhaps you missed notifying someone. You can either pick out a change of address packet at your local post office for free, or you can change your address online where they will charge you a $1 verification fee. After you move, be sure to change any addresses with payees as bills, etc come through the mail. One year seems to be plenty of time to get everyone in the loop about your new location.
Change your mailing address for all of your bills, even if you are using automatic bill pay. If someone tries to send you something via snail mail and it hits the USPS forwarding system - it can be delayed by a couple weeks. So if you do have paper bills, this is especially important to do and have set up before you order your moving truck. Be sure to change the following:
Credit cards
Insurance
Investments/Retirement Accounts
Internet
Phone
Cable/Satellite TV
Car payments
Bank statements/accounts
Employers/paychecks
Your children's schools
Gym membership
Magazines
Newspapers
Transfer/start/stop utilities including gas, electric, water, sewer, garbage/recycling. I wish I could post a link to every gas, electric, water, sewer, and garbage/recycling company out there for each and every one of you, but that would make for a long winded post. Instead, I'll tell you that most utility companies allow you to transfer, start or stop service online. Just have your new address, account numbers, and the dates in which you would like your service changed on hand and it will be quick and painless! Promised. A couple more tips:
When you change your address, the USPS will often give you coupons in your area for utilities, cable, internet, phone, moving trucks, storage, etc. I got two FREE months of garbage/recycling with a coupon code! Just another reason to start your move by changing your address.
When you turn on new services, be sure to ask for new customer promotions. Even if you don't have a coupon or promotional code, it doesn't mean they won't hand you over a deal. Sometimes all it takes is asking for it
For services like water and garbage/recycling, you can get an even bigger discount by paying quarterly or even for the year. My garbage/recycling was an extra 15% off for paying the year up front.
Buy new checks. Checks may seem like they are from the age of the dinosaurs, but I still find myself penning them every now and then. If you do find that you have to use a check, they often want it to match your drivers license, which brings me to the next item on our checklist...
Get a new drivers license with your new address. I'll admit that I usually sleep on this one. The DMV can be such a long wait, can't it? But in some states, law enforcement can slap a fine on you if you are busted with an outdated address on your license. I think it may also link in the system to your car tabs (if your state charges annually for this), so be sure to do it shortly after you move. In Minnesota, for example, you will need the following when you show up to change your address:
A check for $13.50. (See...a check!)
Photo ID to verify your identity.
Proof of residence: paper bill to your new address or your closing/lease documents.
If you haven't already done so, please check out my Tips to Simplify Your Life When Moving. I give you some things to keep in mind as you begin to sort through your belongings and decided what stays and what goes. Why not make your fresh start one with clarity!?! To further simplify your life and have less clutter, consider these tips too:
Want to go green?
Remove yourself from the paper phone book list. It saddens me to see all of the paper phone books when they are delivered in my neighborhood. If you thought checks were of the dinosaur ages - then I'd be excited to see what you thought about the paper phone book! It's a waste of trees if you ask me. That's why they invented smart phones! To remove yourself from the delivery list, try Catalog Choice for many junk mail items (catalogs, etc) or check out the National Yellow Pages Consumer Choice & Opt Out Site.
Check to see if you have a local county or city environmental center. Once you have an official address within city or county limits - many of these centers offer free mulch, recycling for old appliances, etc. to their residents. We recently purchased a rain barrel and compost bin at our county environmental center to use at our new house for a total of $80, when through retail stores could have easily paid double. Also, many environmental centers will have a place where you can bring unused or leftover paint and spray paint cans. Ours keeps them altogether and residents can go there to shop for paint for and take them for free!
Getting or changing your land line number?
Be sure to add your new phone number to the National Do Not Call Registry. If you are like us and still keep a land line.